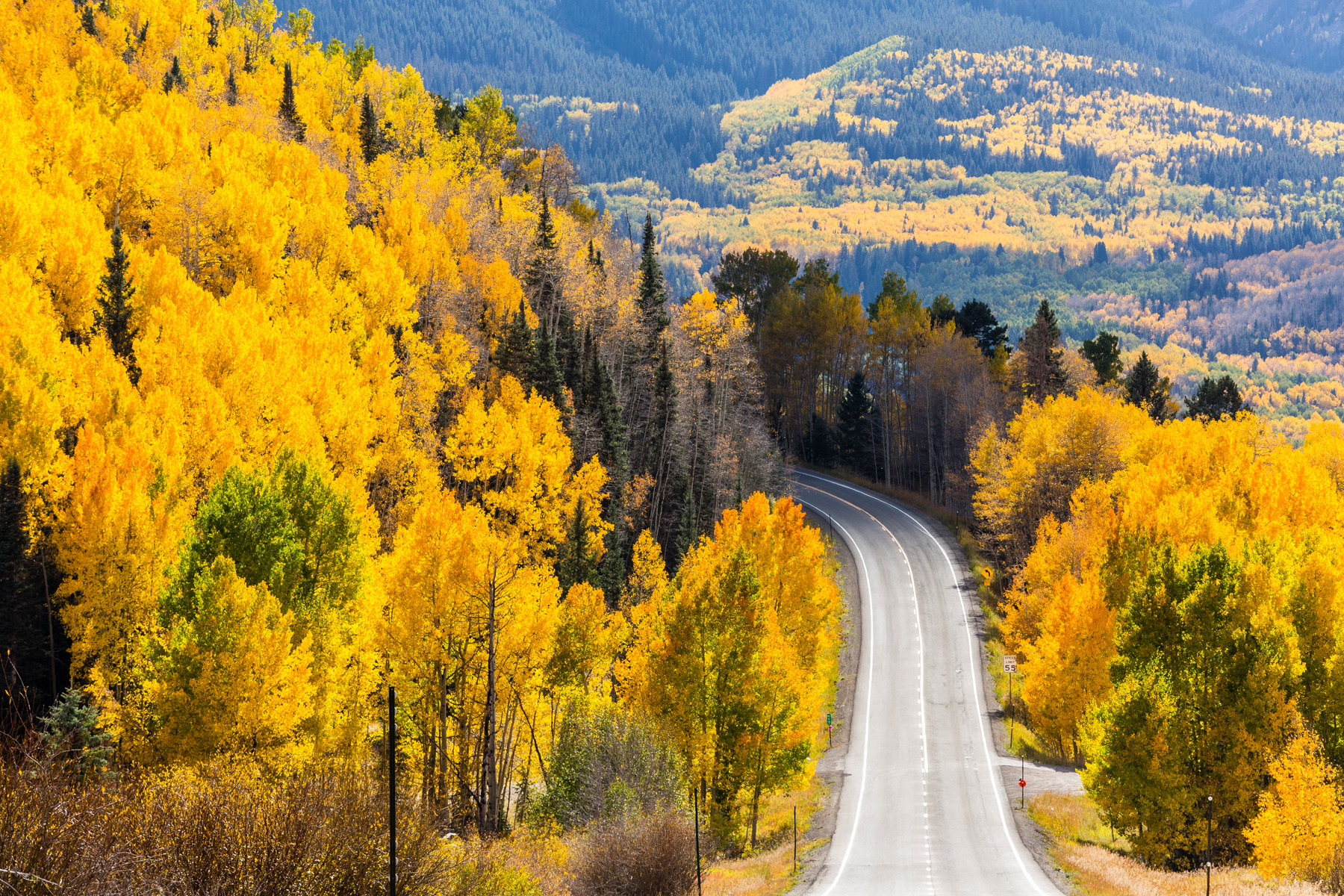 Crested Butte Landscapes, Mountains and Fall Colors Workshop, 9/27-9/29, 2017
landscapes • fall colors • composition • lighting • post-production instruction
$1,350 per participant, lodging included ($1,100 without lodging) • $600 deposit required to reserve a space • Space Limited to 5 participants (space for 3 in shared lodging)
Few places can compare to the dramatic and rugged beauty of fall in the Colorado Rockies. Combining subtle and dramatic beauty along with beautiful fall weather, the photo opportunities are endless. We'll explore and photograph the back roads and incredible aspen groves, mountains and valleys around Crested Butte on a 3-day fall foliage and mountain landscape workshop in the Rocky Mountains of Colorado. In autumn the Rockies deliver layers of color and raw, rugged beauty, from the grandest landscape to macro details. With a little luck, the higher peaks will get a dusting of fresh snow during the workshop as we explore the area around Crested Butte, Kebler Pass and the Elk Mountains. With 13,000-foot rugged peaks all around, blue skies, yellows, oranges, and reds of aspen, oak, and cottonwoods decorate the foreground.
Stephen will teach you his creative process from trip planning, pre-visualization, composition, lighting, and image capture, to digital darkroom workflow. This intensive 3-day workshop will include the option of shared accommodations at a house in Crested Butte (for up to 3 workshop participants), which will provide the opportunity for deeper and extended interaction between Stephen and workshop participants. Midday and evenings will be filled with further teaching and discussions of the creative process as well as image sharing critique.
The workshop is limited to a five to one ratio of participants to instructor to ensure each participant receives personal attention and guidance. At least 3 participants must sign up for the workshop to take place.
The workshop will be structured to be beneficial to all attendees from beginners to advanced photographers. However a basic understanding of photography will help you get the most out of any workshop. Stephen can suggest some good sources of information before the workshop.
Transportation to and from Crested butte and all meals are the responsibilities of the workshop attendees. Meals will generally be as a group at either a local restaurant or the rental house.
Discussed Topics Include:
composition

previsualizing images

lighting

exposure, white balance & understanding histograms

filters - polarizers and graduated neutral density

lenses, focal length

aperture & shutter speed

depth of field

camera operation and settings

post-processing in Photoshop and Lightroom

file formats - JPEG and camera RAW

color space

focus stacking

stitched panoramas

tripods
What's Included
A personal photography workshop experience along with individual instruction. With a max of 4 students, there will be plenty of time for Stephen to give personal instruction to each student.

Lodging (for those who opt to the shared Crested Butte house)

Transportation from lodging to and from shooting locations, snacks.

prior to the workshop, Stephen will host a one on one Skype session with each participant to discuss expectations and for Stephen to learn what each of you are looking to learn from the workshop

pre-workshop packet with information about what to expect, suggested gear, and how to get the most from the workshop.
What to Expect
Each day will bring something different. Stephen will scout locations prior to the workshop and select shooting locations from based on light, weather, foliage and what Stephen will be teaching. We could find ourselves shooting details of an aspen forest one morning and grand landscapes the in afternoon. We will let the weather and light help us decide what to shoot each day. Conditions permitting, days will be long as we will plan to get up and shoot sunrise, take a break midday, then shoot until sunset to take advantage of the best light and make the most of each day.
At the end of each day (or during a midday break), we'll do a slideshow and image critique. Each evening will also be a time for a lesson in post processing, including RAW processing and conversion, stitching panoramas, or final touches to improve an image.
After we've all arrived in Crested Butte, Stephen will drive us all in one vehicle to our shooting locations around the area. Some shooting will be from close to the road while other times we may do short hikes up to a mile from the car to shoot at a prime location, if the entire group is physically capable.
What to Bring
You'll enjoy and take better photos after the workshop, but you'll get the most out of it if you have the following gear and equipment.
digital camera with creative modes (Manual, aperture priority, shutter priority and bulb modes)

camera with mirror lockup capability or mirrorless camera

lens or lenses with a range of focal lengths, from wide (24mm or wider) to telephoto (200+) zoom or primes

extra camera batteries and memory cards

tripod

wireless remote or cable release

extra batteries

polarizing filter

graduated neutral density filters (1, 2 and 3 stop, hard edge)

warm clothes including hat, gloves, puffy coat, and raincoat

hiking shoes

headlamp

reusable water bottle

laptop computer